La Gr@not@ is calling for contributions for a new anthology. Several participants had a great deal of fun with the week on Wanna Score? dedicated to the dragon invasion of famous works of literature: https://twitter.com/granota_hut/status/1581917287484821504, and a few have asked for the theme to be continued.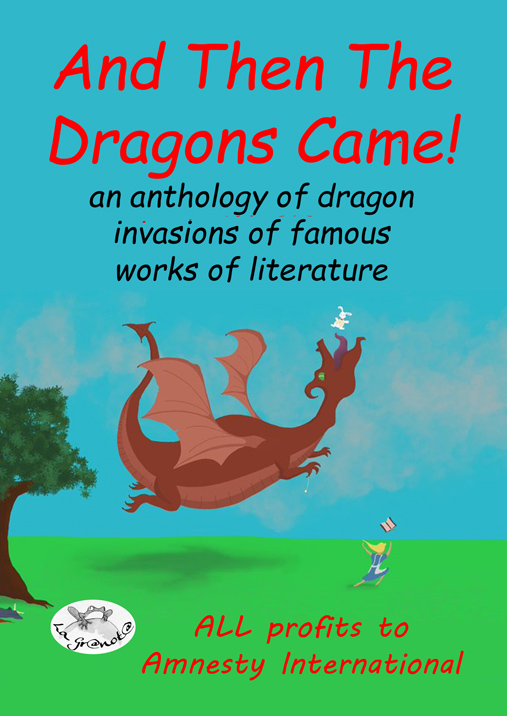 So here it is. The rules are a little bit complicated:
(1) Choose a [famous] book (which may be fiction or non-fiction), short story, essay, play, speech, or poem.
(2) Make sure that it's in public domain. This means that it's copyright-free, which usually means that the copyright has expired (works originally published in the U.S.A. before 1928; by British, Australian, and European-Union authors who died before 1953; or by Canadian and New Zealand authors who died before 1973; for authors from other countries, check this list).
(2a) An easier rule-of-thumb: If it was published anywhere in the 19th century or earlier, it's almost certainly safe to use.
(2b) The Gutenberg Press is a good place to find material online, though some modern works published there might still be under copyright.
(3) Copy the FIRST sentence [in full] of your chosen work into one of the comment boxes at the foot of this page. (You may – if you wish – alter the punctuation, for example, by converting it into direct speech or ending the sentence with a comma. But you may not add any other words before step 4.)
Or you may post your entries on Twitter… but then they'll have a 280-character limit.
(4) Continue with the words "and then the dragons came".
(5) Follow that with words of your own choice.
(6) Unlike the original exercise in Wanna Score?, you are not limited to the 20-word rule, but you shouldn't make your entry too long.
(7) You may submit graphic art, which should be sent to invasion(at)la-granota(dot)com or posted on the Twitter page.
(8) IMPORTANT! Name the title of the work and the author from which/whom you've borrowed your first sentence. This saves the editors from searching the Internet for your source.
(9) Participation implies permission for your entry to be included in a La Gr@not@ anthology, with all profits going to Amnesty International.
(10) You should give the name by which you want your entry to be credited. (If you don't give it within the comment box, the one you use for posting will be used.) We will later ask you to provide a mini CV.
(11) Multiple entries are VERY welcome.
(12) It should go without saying that the same work may be used more than once, so if you see your chosen book (or whatever) already invaded, you may have your dragons invade it from a different direction.
***
We give here 3 examples from the Wanna Score? anthology*:
(a) The Mole had been working very hard all the morning, spring-cleaning his little home.
And then the dragons came: right on time, as guaranteed in their advert.
"The rubbish is around back," said Mole. "Burn or devour, as preferred."
(The Wind In The Willows by Kenneth Graham)
(b) When on board H.M.S. 'Beagle,' as naturalist, I was much struck with certain facts in the distribution of the inhabitants of South America, and in the geological relations of the present to the past inhabitants of that continent.
And then the dragons came and, by the Holy Hokey, I nearly pooped my pantaloons!
They blew the bejeezus out of all my previous observations!
(1st sentence of the Introduction to "On The Origin Of Species" by Charles Darwin)
(c) There were four of us – George, and William Samuel Harris, and myself, and Montmorency. And then the dragons came.
Harris said: 'Won't it be crowded with the dragons?'
You can never rouse Harris. There is no poetry about Harris.
(Three Men In A Boat (To Say Nothing Of The Dog) by Jerome K. Jerome)
***
We wish you satisfying searches, pleasant purloining, and adventurous adapting!
* The Wanna Score? anthology can be found (along with other digital books) at https://la-granota.com/list.htm