STOP PRESS!
"Wanna Score?" has now been published!
It can be ordered at https://la-granota.com/list.htm for 2€60 (50¢ per copy going to Amnesty International).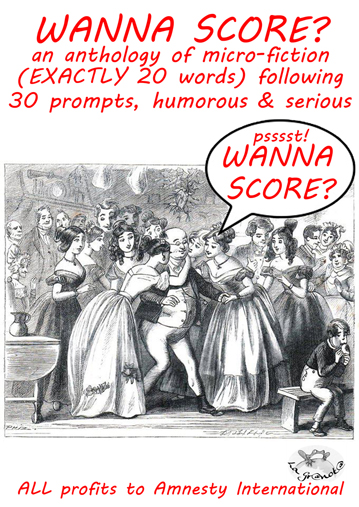 If you're interested in contributing to another anthology to benefit ai, we're now running this one (without a word limit): https://la-granota.com/blogs/index.php/2023/03/11/dragonlitinvasion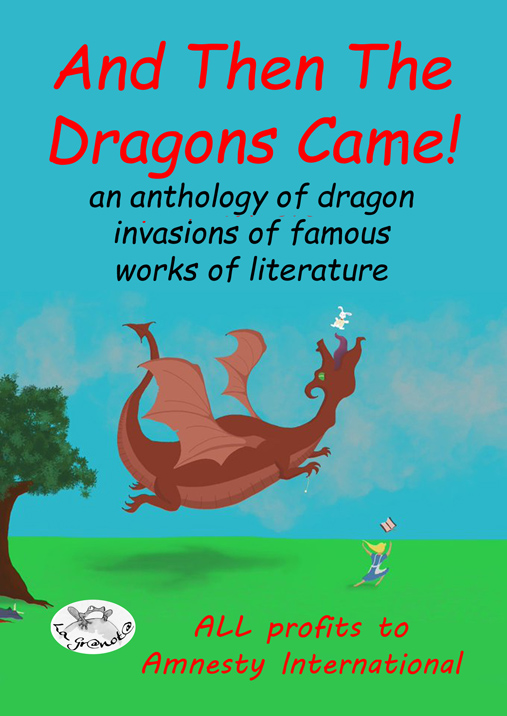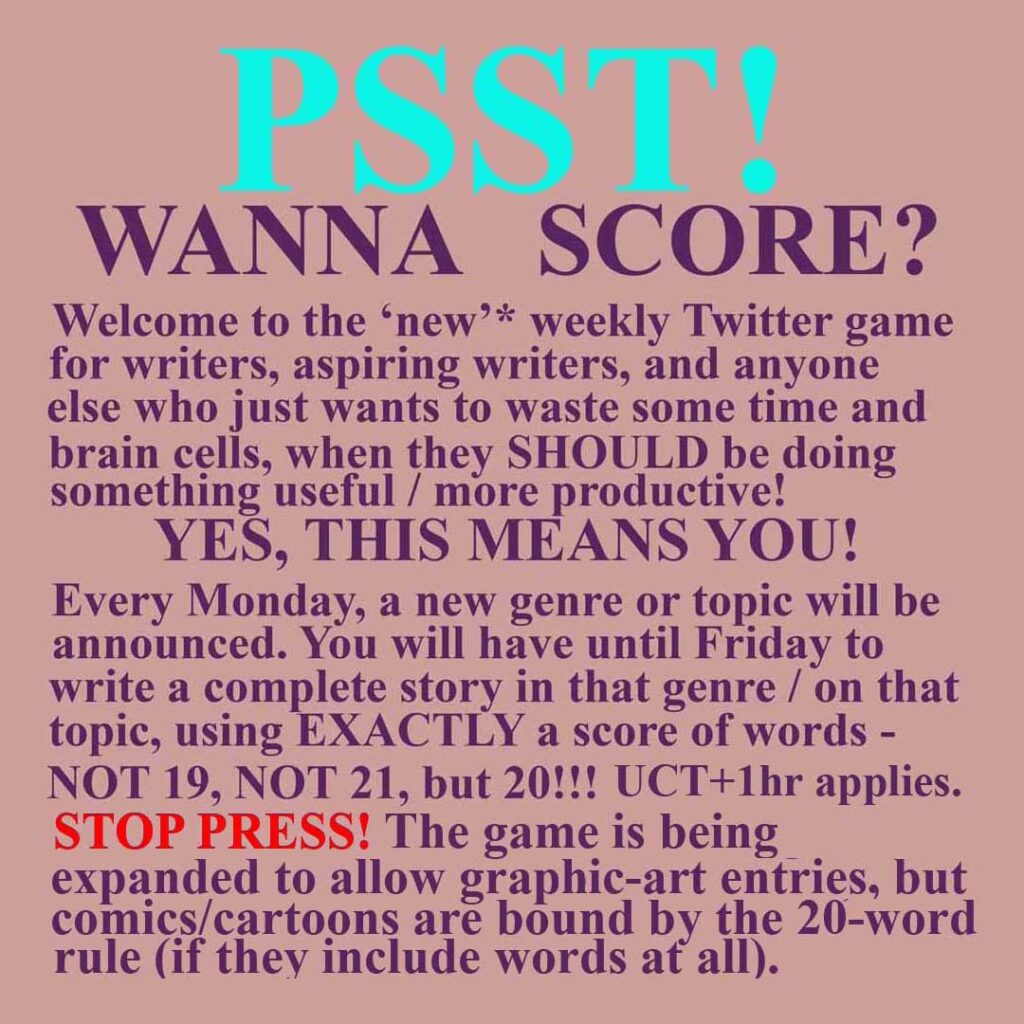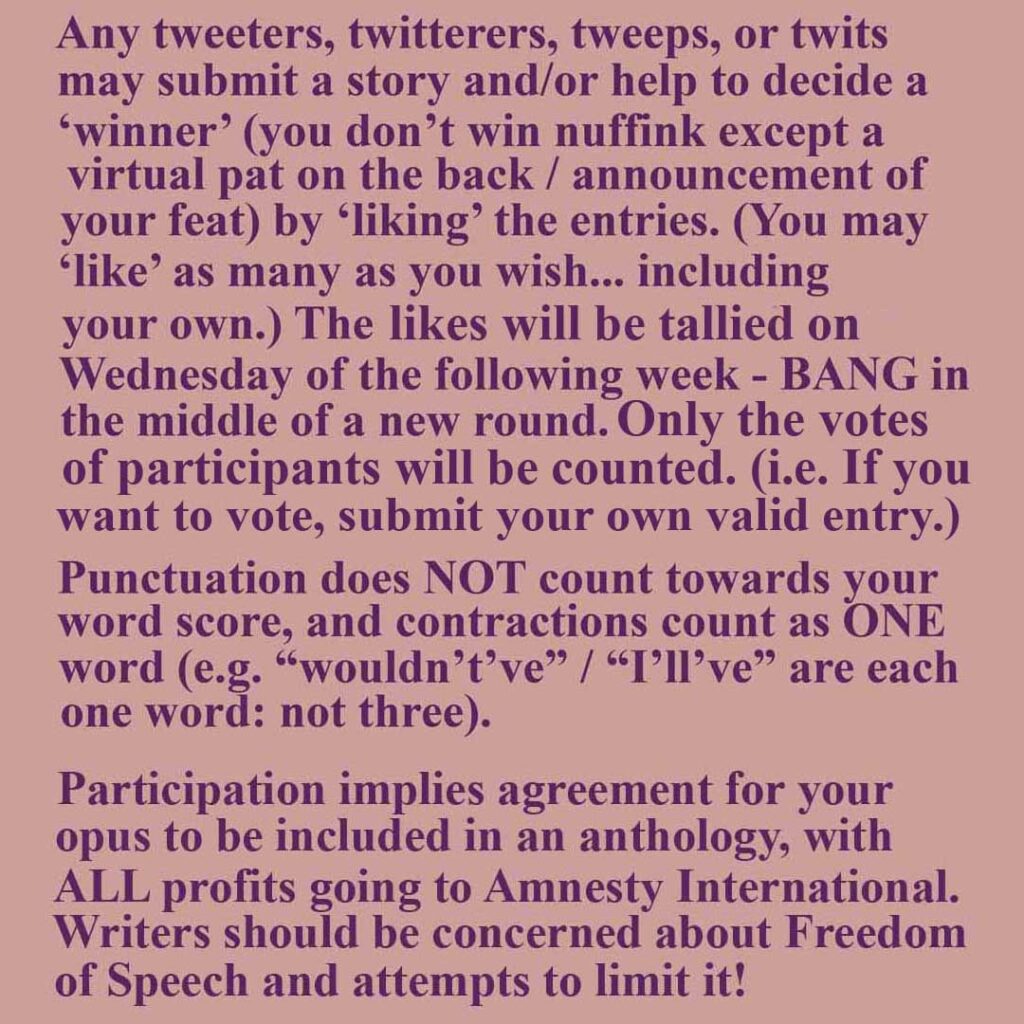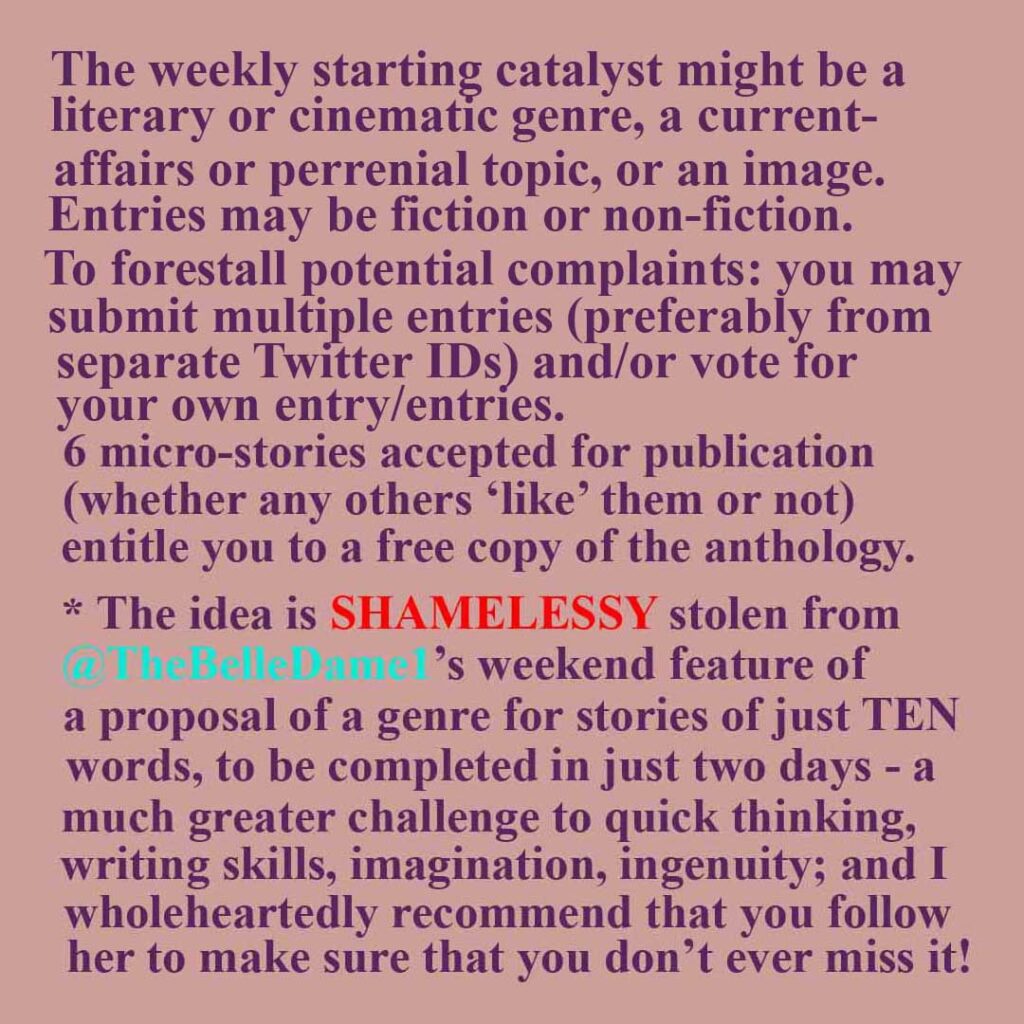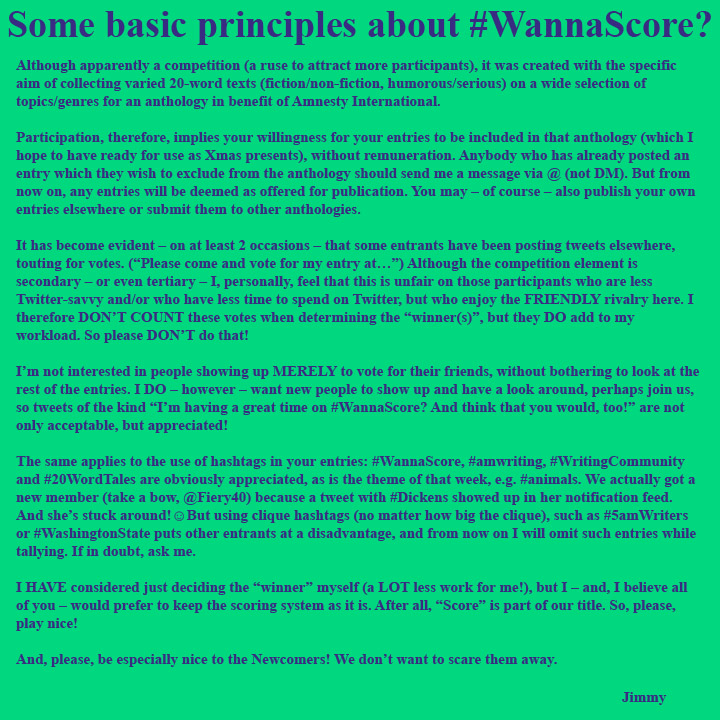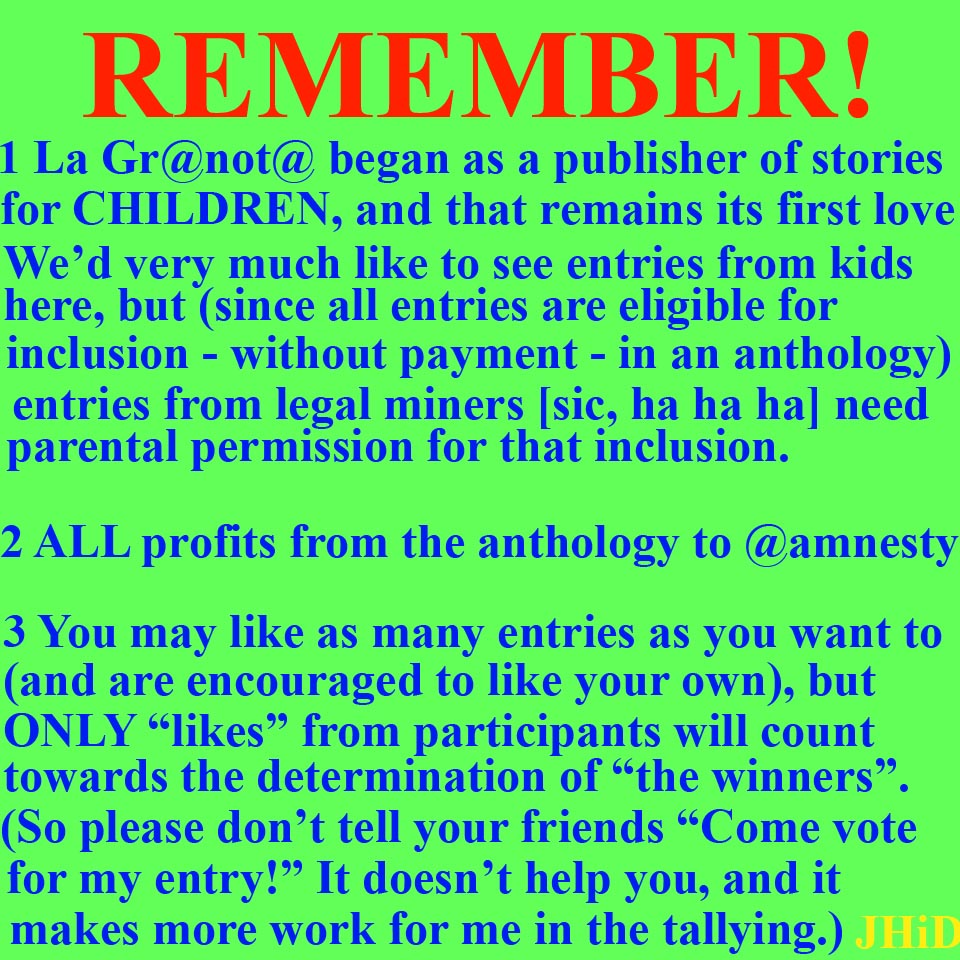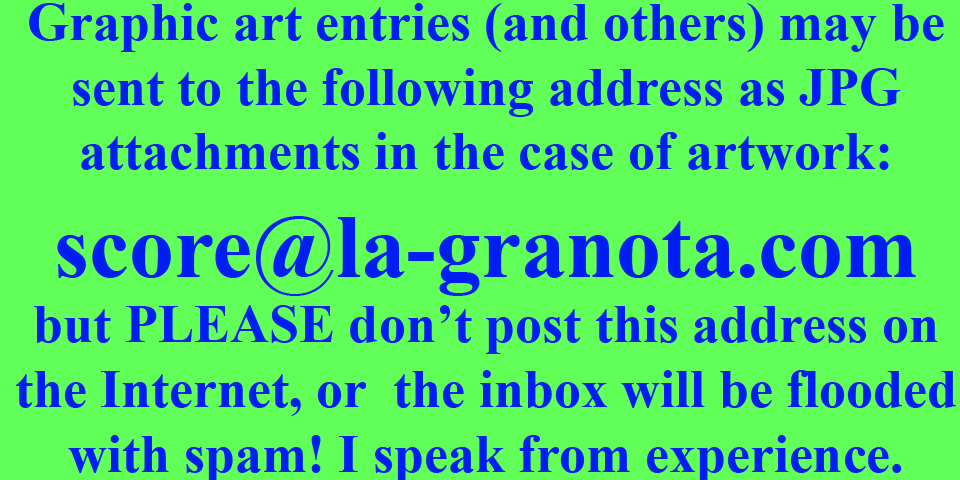 This blog was set up to allow people without a Twitter account to submit 20-word wonders to the Twitter game, "Wanna Score?", which runs from Monday morning (continental European time) to midnight Friday, every week. A special Twitter account has been set up and managed by us… to which each person may submit MULTIPLE entries each week.
Since entries posted HERE (as opposed to on Twitter) don't take part in the competition element, there is no deadline. But if you post entries using previous weeks' prompts, PLEASE label them as such!
A different starter is posted each Monday, and entries must be EXACTLY 20 words long. If you haven't got a Twitter ID, we think that you can find the week's topic by visiting https://twitter.com/explore and searching for #WannaScore (ignore the list of 3 IDs with variations on @WannaScore – click on "search for #WannaScore"), but we'll try to post each week's topic here, as well.
Or you could go to @granota_hut's profile page, and scroll down the tweets until you find the latest #WannaScore? prompt.
ORIGINAL artwork – including cartoons and original photos – would also be very welcome. But each artwork entry must contain NO words or EXACTLY 20 words – either within the graphic or as an accompanying text.
Almost all of the entries to this game (unless they're offensive) will be published by La Gr@not@ in an anthology. 100% of sales of the digital edition will be donated to amnesty international. If a printed edition ever comes out, 100% of the profits (after printing and postage costs have been dealt with) will go to ai. Nobody from La Gr@not@ will earn any salary for time and work spent on this project.
Submitting an entry, therefore, implies that you agree for it to be included in the anthology with no payment to you. (You get a free copy if you've submitted 6 posts which are accepted.) However, you retain copyright and may subsequently publish your own entries elsewhere.
You may use your real name or a pseudonym, which should be the name you enter below when you post a comment.
Any questions may be asked there, as well.
1&2. The first week's game (the topic was – fittingly – "Freedom Of Speech") can be found here… and the second week's (crazy horoscopes) can be found HERE.
3. We're now 3 days away from closing time for entries for the 3rd week's topic, which is to write a 20-word mashup of horror and humour. You can read the entries already submitted here.
Monday, 16th of May, 2022 – Be it by all here known that #WannaScore? was inspired by (read: "ripped off from") @TheBelleDame1's 10-Word Tales For The Weekend, which concentrates on setting literary/cinematic GENRES as its challenge.
4. This FOURTH week here, something like that. 20 words EXACTLY about #DICKENS: lit/film
You may post your 20-worders (not 19! not 21!) in the comments boxes below. Remember that you ARE allowed multiple entries.
To read some of the delights being posted on Twitter (and have access to the full terms and conditions), click here.
5. We enter the FIFTH week, and the challenge is to write a story with one or more animals as the main character[s] (may be heroes or villains). The animals may be borrowed from popular culture (e.g. Lassie, Black Beauty, Eeyore) or products of your own imagination. The Twitter site – including others' entries – can be seen here.
6. Can it be the SIXTH week already?! Apparently so, and this week's challenge is to write a Blues lyric of exactly 20 words – or submit a video/audio recording of you singing/playing the Blues (any length. To see Twitter entries (for inspiration?) go here, but entries may be submitted below in the comments section.
7. Due to an OBSCENE case of censorship by Twitter (perhaps in response to a complaint by a visitor [we HOPE that it wasn't a participant!] to the site), La Gr@not@ has decided to run this week's edition of Wanna Score? from this WordPress site. (The 3 entries which Twitter deemed "offensive" are the 3rd to 5th verses of Emilie van Damm's [that is, MY] Blues, which you can find in the replies below. I will, out of my own pocket, pay 2,000€ to anyone who can convince me that there's anything offensive about it.)
For this week alone, NO entries will be accepted via Twitter, although it will be announced there.
Although many of us aren't citizens of the USA, what happens there affects us all. No other country has a bigger effect on the rest of the world.
And many hard-held, DANGEROUS beliefs of ignorant Americans today are based on fallacies, such as the one that the "Founding Fathers" always meant for the USA to be a "Christian nation". Read the quotes in this poster: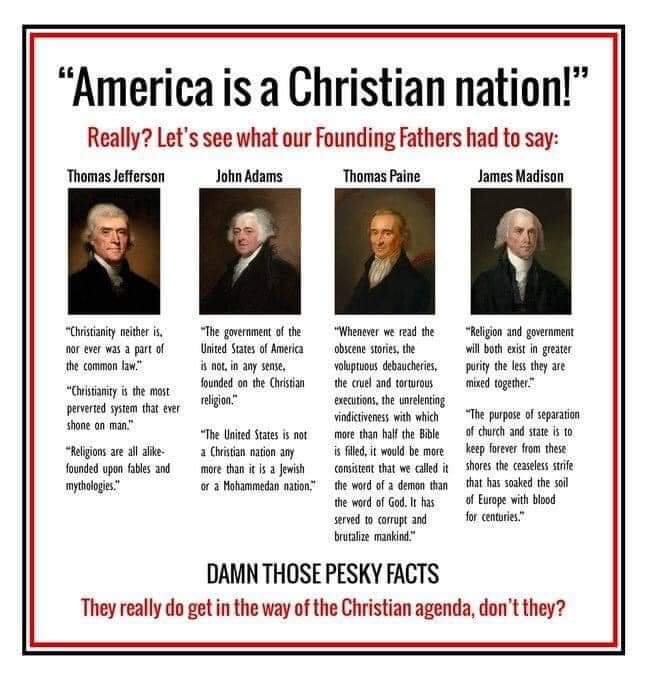 Jimmy (our Frog-in-Chief) got the idea for the following when he found that poster on Twitter, but before he read (later that day) about the Uvalde, Texas massacre. Some of you may feel that that event was too recent for this topic to be raised now, but you should remember that mass shootings are a regular occurrence in the USA: if we waited for feelings to calm down after each one, we could NEVER post it!
This week's WannaScore? Challenge is to either comment on those aforementioned crazy beliefs or invent some spurious historical statements of EXACTLY 20 words which seem to explain the strange behaviour of people in today's USA.
You may or may not decide to "sign" your entry with the name of a famous, bygone American or institution. This signature will not count towards your word total.
Due to Twitter's decision that IT has the right to censor anything which IT finds offensive in your replies, it has been decided that this topic needs to be dealt with away from Twitter. Be as offensive as you like about people who worship guns and/or are hypocrites when they spout (for the Nth time) "Our thoughts and prayers go out to the families who have lost love ones [bla bla bla]"!
8. Quite simple, quite a short prompt: This week's challenge is to write EXACTLY 20 about, by, for (or against), on, etc. superhero(es) and/or supervillain(s). Fiction and non-fiction accepted Here on WordPress, multiple entries may be posted in a single reply box, if you wish, but each one should be autonomous (stand-alone comprehensible). Or you may post entries on Twitter. Here.
9. Apologies for the delay in posting this week's prompt, but Jimmy was caught up in a barney this morning on another website, and has only just e-mailed me the following details:
Anyway, this week (20th-24th of June, 2022) the challenge is to write a message (as always of EXACTLY 20 words) to a long-lost love or a friend/acquaintance with whom you've been out of touch for a long time. Accompanying comments and/or URLs may be included, but the 20-word main section must be 100% comprehensible/stand-alone without NEEDING such accompaniment. Again, as always, multiple entries are welcome, and they may be humorous, heartbreaking, tragic, accusatory… whatever. And – as always – original JPGs on the subject may be sent to the address given above, but JPGs should contain either 0 words or 20: nothing in between.
Speaking of accompanying URLs, this lovely song might serve as inspiration: "Ghost" by Indigo Girls.
Here's the Twitter version, in case you prefer to post your entry/entries there (there's a friendly rivalry element there, missing from here)… but remember that your entry might get deleted there by Twitter staff, whereas it won't be, here on WordPress.
10. 27th of June to midnight, 1st of July, 2022 (continental European time)
The recent decision by the Supreme Court of the USA to overturn Roe vs Wade has caused a change of plan here on Wanna Score?
Jimmy was planning to set a light-hearted prompt, but…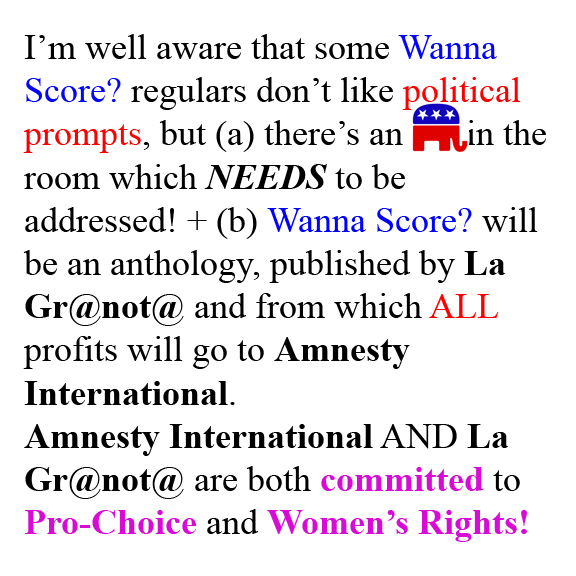 This week's prompt is, therefore, Women's Rights / Pro-Choice.
Once again, you may either post your entries here or on Twitter, but – if you wish to use strong language, it would be advisable to post here.
11. Meaning the 11th week / 11th prompt for Wanna Score? ! (From the 4th to the 8th of July 2022.)
An ibex (mountain goat) – of all things – inspired this week's prompt: to write EXACTLY 20 words on vermin of any kind.
You may post your entries here or on Twitter, where there's an added "competition" element.
12. (11th-15th July, '22) This week's subject is witches and witchcraft!
You may post your entries here or on Twitter.
13. (18th-22nd July) This week's Wanna Score? / 20-Word-Tales challenge isn't a subject, but a STYLE: alliteration.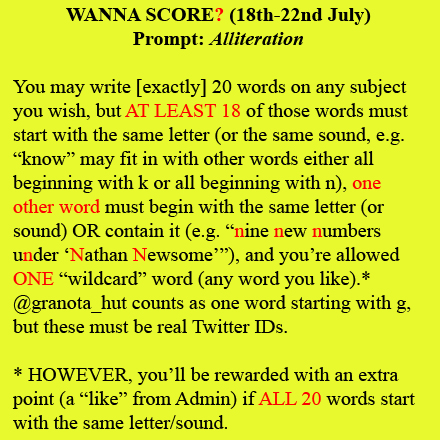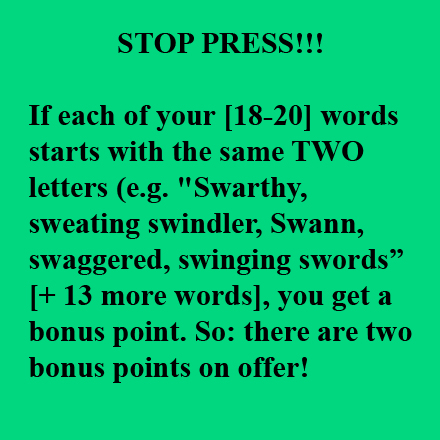 The extra points only apply, of course, to entries posted on Twitter, but the challenge remains. The Twitter version o this week's Wanna Score is here.
14. 25th-29th July The prompt is Josh Hawley, the U.S. Senator from Missouri, who raised a fist in solidarity with an insurrectionist mob, encouraging it to attack the U.S. Capitol building (which it did). Later that day, he was filmed – see one of very many videos circulating on the Net here – running for his LIFE from the very same mob which he'd helped incite to violence. You may leave a comment here (as always: EXACTLY 20 words long, but you may leave a link or supporting comment, as long as the 20 words are stand-alone publishable in our anthology) or on Twitter.
15. 1st-5th of August and the prompt is pirates! And I know someone who's going to want to post here. And she's sitting next to me, pushing me out of the chair. Hold on! I have to finish this… The twitter version can be found here. Alright, aright! I'm GOING!
16. Week of 8th-12th August. The prompt is "screwball and/or slapstick comedies". See what you can do with that! (Read the block below for ideas.)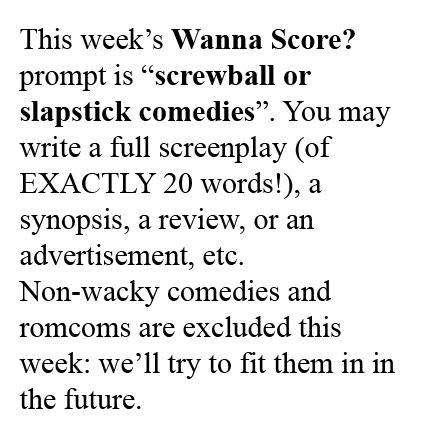 As [almost] always, you may post your entries here or on Twitter, where there's a pseudo-competition element (see who gets most "likes"). The Twitter edition is here.
17. 15th-19th August. Much of the northern hemisphere is on its summer holidays… so that's this week's prompt. Southerners can either make use of nostalgia, or write us about WINTER holidays. For a peek at what's going on on Twitter, click here.
18. 22nd-26th August, 2022. This week's prompt is outdoor, ACTIVE activities, NOT counting competitive sports nor spectator ones. No couch potatoes here!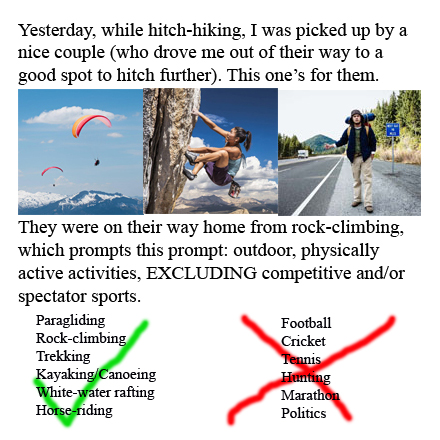 You can post your entries of EXACTLY 20 words he comments boxes below, or on Twitter. Put some effort into it!
19. 29th August to 2nd September. The prompt is spies/espionage!
Post your sneaky entries here or on Twitter.
20. 5th to 9th September. Water in exactly 20 words. Entries here or on Twitter. Oh, and: CONGRATUATIONS, Adam!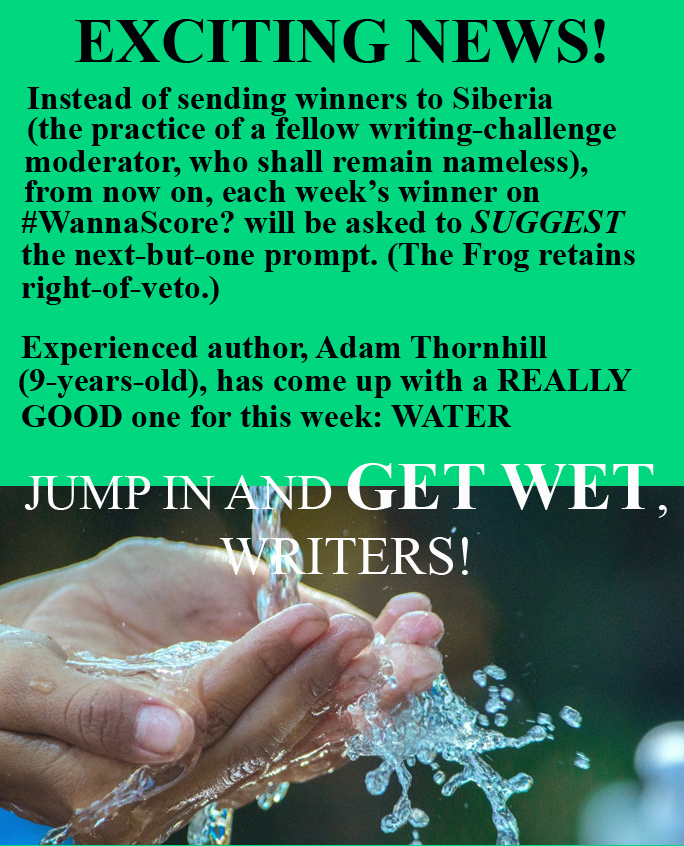 21. 12th-16th September, 2022. (Up to the 18th for schoolchildren, education workers, and participants here on WordPress.) This week, the theme is steam – in all of its manifestations – a prompt suggested by Mark Weaver, whose entry got most likes on the 19th Wanna Score? The Twitter version can be found here.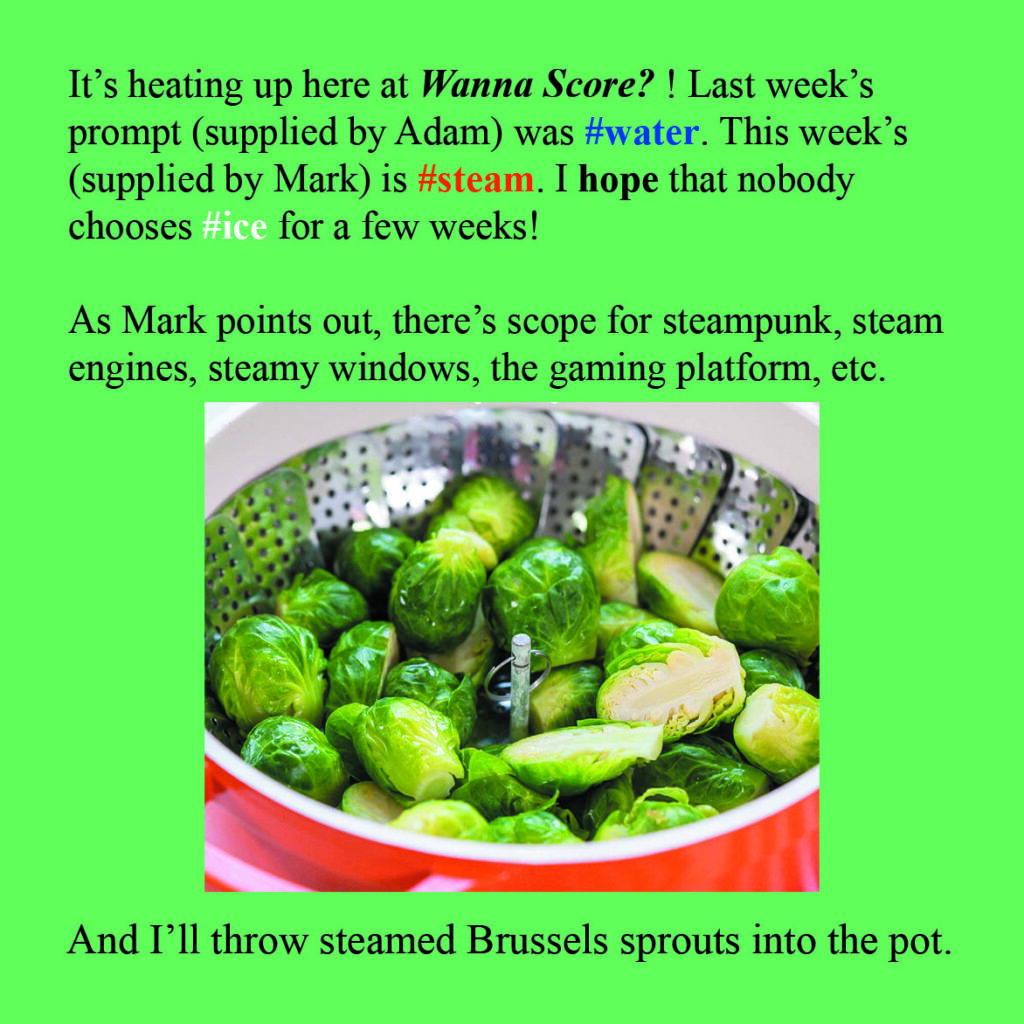 Due to a technical glitch, the deadline for this week's entries is being extended to midnight, Sunday (Copenhagen time).
The technical glitch wasn't cleared up in time, so nobody trying to post entries last week (#21) here on WordPress was getting through. Thanks to everyone involved for sending your entries to our e-mail address! The problem has been fixed now, so… on with the game!
22. 19th-23rd September (+ extension of the weekend for students and school workers). Jay has provided the prompt: dragons!
We HOPE that entries can be posted here! Also on Twitter.
23. 26th-30th September. This week's prompt – provided by Mark Weaver – is "unfinished". Post entries here or on Twitter.
24. 3rd-7th of October, until the 9th for people in Education. Georgia Lythgoe (aged 11)) provided the prompt: night.
Entries may be posted here or on Twitter.
25. 10th-14th October (extended to 16th October for anyone in Education). It's autumn in the northern hemisphere and spring in the southern hemisphere, so you may use either (or both) of those prompts, and may post entries here or on Twitter.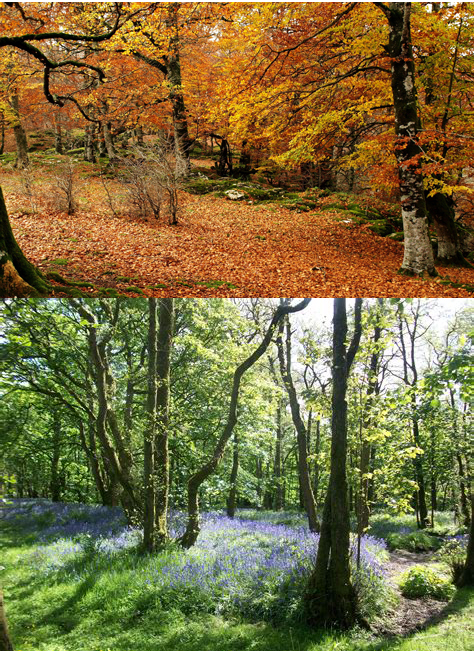 26. 17th-21st October (on Twitter). The prompt is dragons invading famous books and hijacking their plots. Read the instructions in the image below. Please name the book and author! Twitter entries can be read here.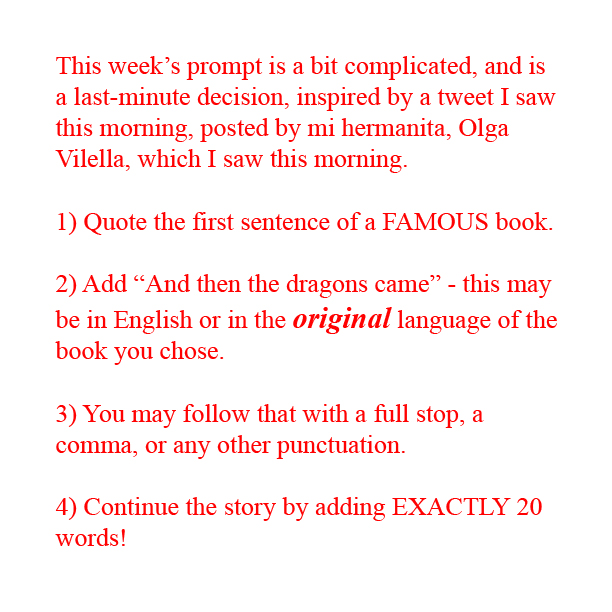 27. (24th October) SciFi in EXACTLY 20 words! Twitter is in another dimension, but can be reached via this wormhole.
28. (31st October) The operating theatre/theater. Twitter operable here.
29. (7th November) The prompt is rain. Twitter version here.
30. (14th November) No Wanna Score this week!
31. (21st November, 2022) Set by Lynda Thornhill, the prompt is sleep and/or dreams. Twitter edition here.