<![if !vml]>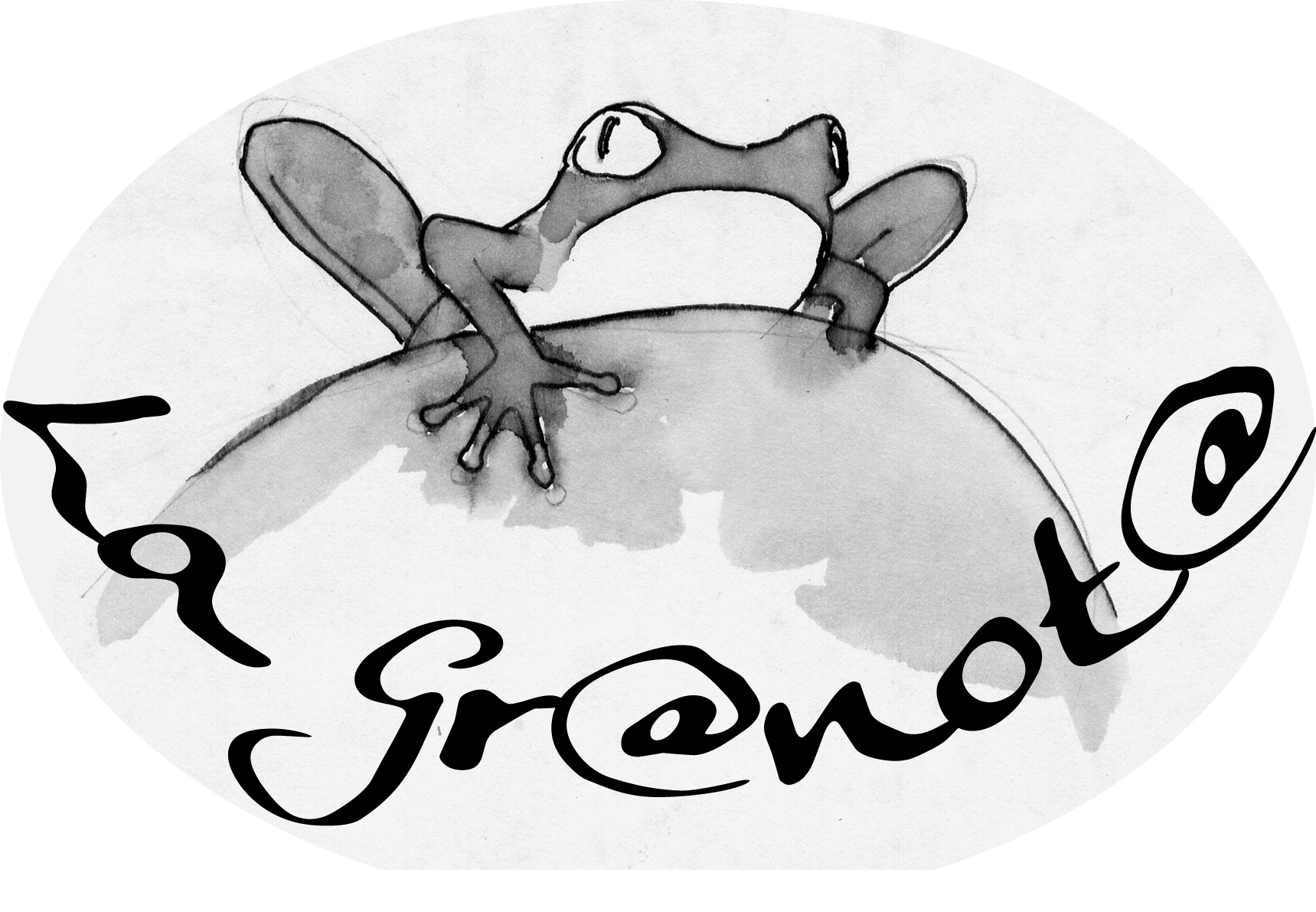 <![endif]>
<![if !supportEmptyParas]> <![endif]>
<![if !supportEmptyParas]> <![endif]>
Llista de Llibres – Book List – Lista de Libros
<![if !supportEmptyParas]> <![endif]>
Ara No, Papa! / Not Now, Daddy! / ¡Ahora No, Papá!
Edició trilingüe, trilingual edition, edición trilingüe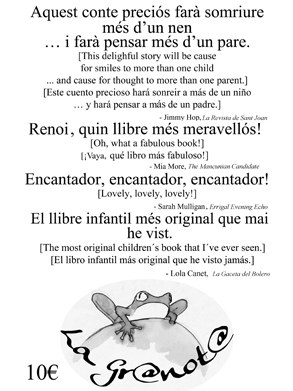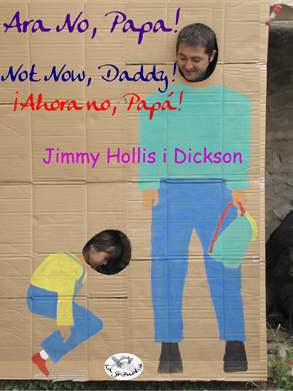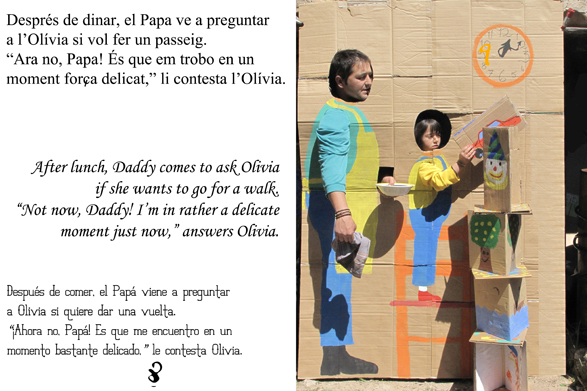 ISBN: 978-3-946002-00-0
Tapa de cartolina, 36 pàgines a 25,44cm x 19,1cm
Paperback, 36 pages 25.44cm x 19.1cm
Tapa de cartulina, 36 páginas 25,44cm x 19,1cm
Preu / Price / Precio 10€
Si ets el pare (o la mare) d'un(a) nen(a) llest(a) i despert(a), segurament li hauràs dit - en més d'una ocasió - "Ara No, Amor! Que no veus que estic ocupat/ocupada?" Oi que sí?
Doncs, en aquest llibre, és l'Olívia - d'uns 6 anys - que diu coses així al seu pare, que només vol fer un tomb amb ella. Però ella mai no té el temps per a dedicar-li.
Un llibre divertit, fet amb amor per a estar llegit per pares i nen(e)s junt(e)s. Les il·lustracions són - ens sembla - absolutament úniques en la literatura infantil. Pintades sobre cartró rescatat del carrer, però amb les cares dels personatges "en viu", també incloueixen contribucions d'artistes convidats/convidades i els números de les pàgines amagats en llocs diferents, perquè el teu fill / la teva filla els busqui.
Adient per als més petit(e)s, que just comencin a mirar llibres amb els pares, també ho és per a aquell(e)s que comencin a aprendre els seus números, i - debut al fet que està editat en 3 idiomes - per a aquell(e)s que comencin a aprendre'n un de nou.
Es pot llegir el text - i tenir una idea de les il·lustracions aquí.
If you're the parent of an intelligent, awake child, you've probably told them - on more than one occasion - "Not now, Dear! Can't you see that I'm busy?" Go on: admit it.
Well, in this book it's Olivia - about 6 years old - who says things like that to her father, who only wants to go for a walk with her. But she just never has the time to spend with him.
A funny, charming book, made with love to be read by children and their parents together. The illustrations are - as far as we know - absolutely unique in children's literature. Painted on cardboard rescued from the street, but with "live" heads, they also include contributions by guest artists and the page numbers are hidden in different places so that your child can look for them.
Suitable for the youngest children who are just beginning to look at books with their parents, it's also suitable for those who are learning their numbers and - due to the fact that it's published in 3 languages - for those who are beginning to learn a new one.
You can read the text - and get an idea of the illustracions here.
Si eres el padre (o la madre) de un(a) niñ(a) list(a) y despiert(a), seguramente le habrás dicho - en más de una ocasión - "¡Ahora No, Cariño! ¿No ves que estoy ocupad@?" ¿Verdad que sí?
Pues, en este libro, es Olivia - de unos 6 anys - quien dice cosas semejantes a su pare, que sólo quiere dar un paseo con ella. Pero ella nunca tiene el tiempo para dedicarle.
Un libro divertido, hecho con amor para estar leído por pares y niñ@s junt@s. Las ilustraciones son - nos parece - absolutamente únicas en la literatura infantil. Pintadas sobre cartón rescatado de la calle, pero con las caras de los personajes "en vivo", también incluyen contribuciones de artistas invitad@s y los números de las págines escondidos en lugares diferentes, para que tu hij@ los busque.
Adecuado para l@s más pequeñ@s, que acaben de empezar a mirar libros con los padres, también lo es para aquell@s que empiecen a aprender sus números, y - debido al hecho que está editado en 3 idiomas - para aquell@s que empiecen a aprender uno de nuevo.
Se puede leer el texto - y tener una idea de las ilustraciones aquí.
*********
El mateix llibre, però amb tapa dura: Preu a les llibreries 15€, aquí a 13€
The same book, but in hardback: Price in bookstores 15€, ordered here @ 13€
El mismo libro, pero en tapa dura: Precio en las librerías 15€, aquí a 13€
ISBN: 978-3-946002-02-4
*********
Jetzt Nicht, Papi! / Pas Maintenant, Papa! / Ora No, Papà!
["Schweizere Ausgabe"] 3-sprachig / ["Édition Suisse"] 3-langues / ["Edizione Svizzera"] 3-lingue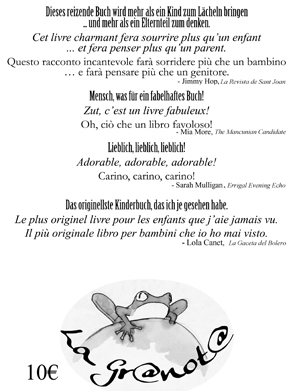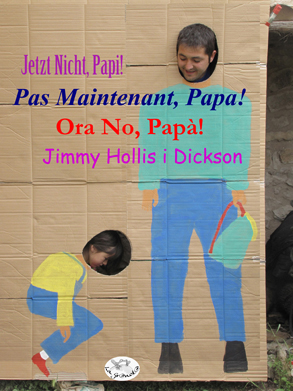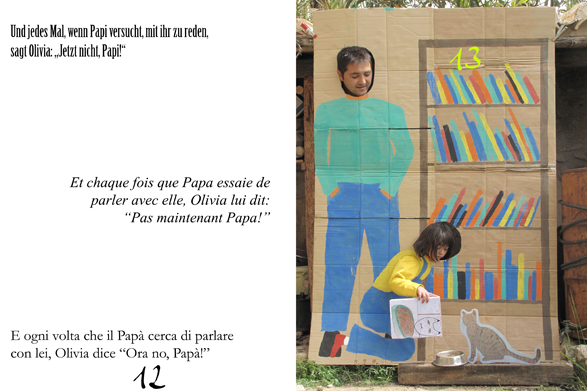 ISBN: 978-3-946002-01-7
Paperback, 36 Seiten 25.44cm x 19.1cm
Couverture cartonée, 36 pages 25.44cm x 19.1cm
Coverta di cartone, 36 pagine 25,44cm x 19,1cm
Preis / Prix / Precio 10€
*********
Alice And I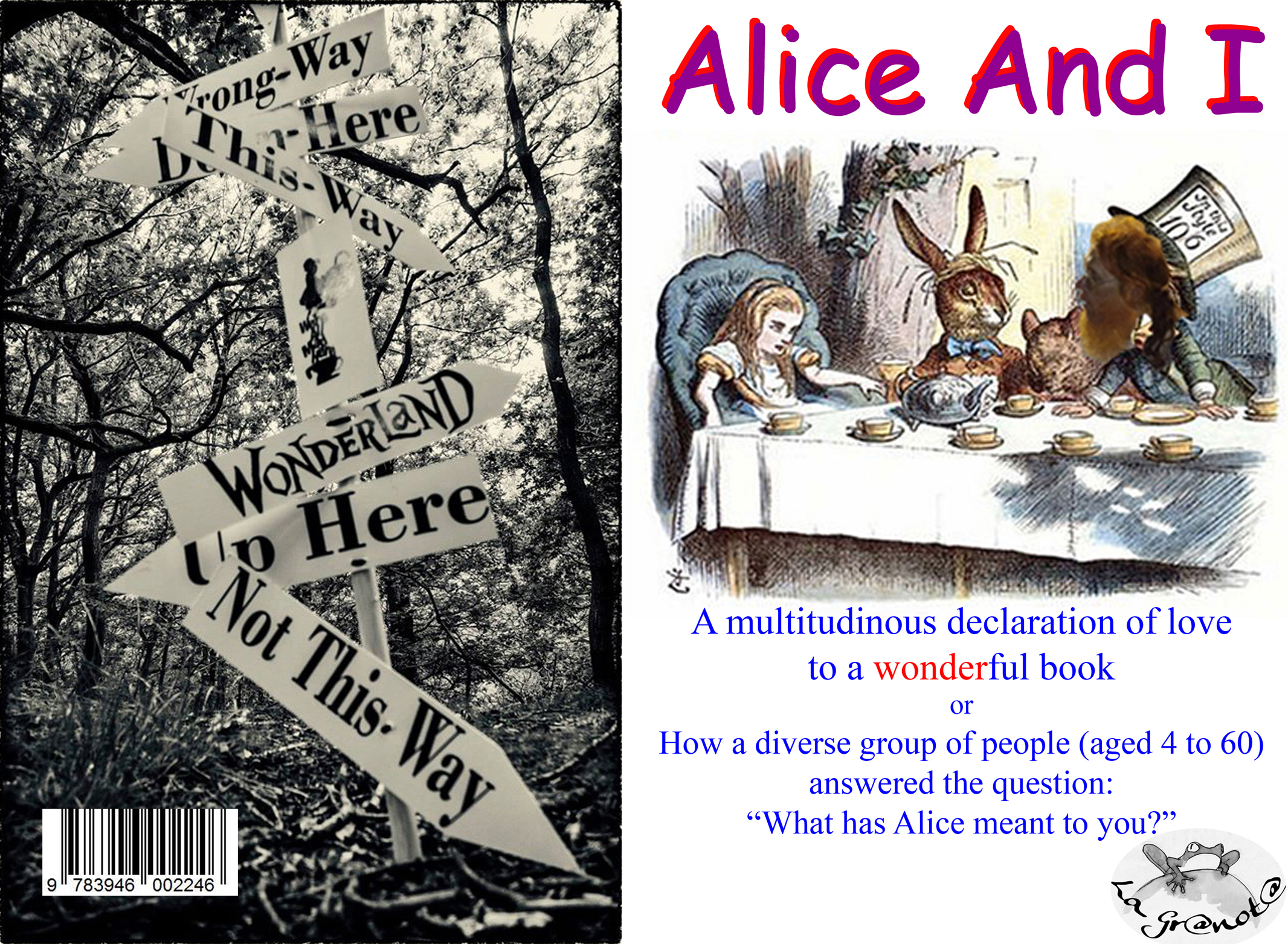 ISBN: 978-3-946002-24-6
Paperback, 60 pages @ A5 (21cm x 14.8cm), 35 of them in full colour, another 4 in part colour
Price 7€, ALL profits go to 3 good causes
2015 sees the 150th anniversary of the first edition of Alice's Adventures In Wonderland. We sent out hundreds of e-mails, created a Facebook page, and spoke to dozens of individuals, asking for contributions to this birthday book, with the theme "What Alice has meant to me". 17 people - aged from 4 to 61 - responded. We have to confess that unfortunately only 3 of them were younger than 21. If we were a famous publishing house, we probably would have been swamped with entries. But who's heard of La Gr@not@?
However, despite the "poor" response, we've ended up with a "rich" little book, because those who did respond did so with talent and generosity. There are 2 photo-shoots, some graphic art, a musical composition, and not a little literature here. And it comes from the heart.
*********
Another Song For Rachel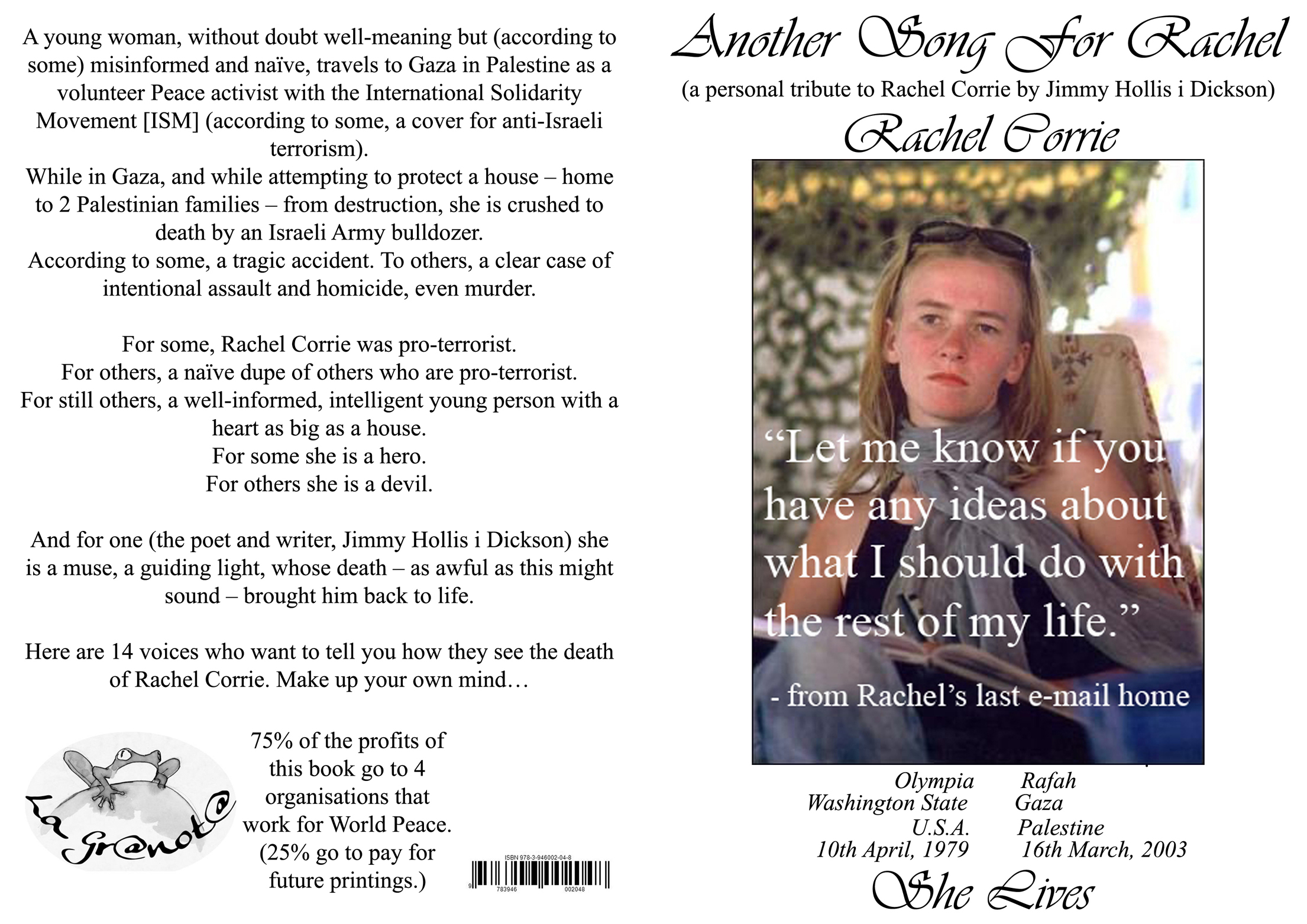 ISBN: 978-3-946002-04-8
Paperback, 32 pages @ A5 (21cm x 14.8cm)
Price 6€, ALL profits go to 4 organisations that work for Peace
On the 16th of March, 2003, an Israeli Army bulldozer, built by Caterpillar, a U.S. American firm, to a special design for destroying houses (in contravention of international law), rolled over Rachel Corrie, a Peace activist from the U.S.A., who had gone to Gaza to witness the treatment of Palestinians by the state of Israel and its army. The driver of the bulldozer claims that it was an accident. Eyewitnesses claim that it was intentional. There has never been a full and fair investigation into the event, the Israeli government contenting itself with a blanket exoneration of the driver and accompanying army personnel, while blaming Ms. Corrie for being where she had no business to be. (It was her fault for being crushed to death!)
This slim book contains an essay, an open letter to Ms. Corrie's parents, and 14 poems, supposedly from 14 different points of view (including the bulldozer driver's, the dead young woman's, and that of George W. Bush) regarding this death. Read them with an open mind.
Els llibres es poden encarregar aquí / All books can be ordered here / Los libros se pueden pedir aquí: http://la-granota.com/pay.htm