Books published by La Gr@not@
(Our price for each book would ideally be 2€. However, the on-line "marketplaces" we use to sell them either charge a monthly quota or a "transaction fee" on each purchase... and then PayPal charges an additional "transaction fee". This means that – in order to make 2€ netto – we're obliged to charge 2€60/copy. La Gr@not@ only makes 50¢ on each copy sold. The remaining 1€50 is divided as follows: 50¢ to the author, 50¢ to the illustrator, and 50¢ to worthy causes, which we'll name below each book. [In the case of THE saga and "Wanna Score?", we don't make anything: the whole 2€ going to worthy causes.])
*********
Ghastly School Shorts by Lynda Thornhill, illustrated by Kay Johanna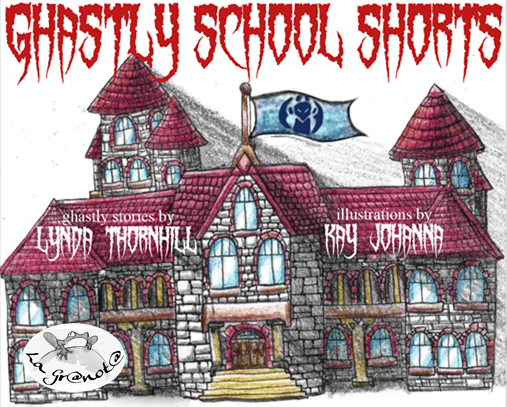 A series of stories about a most peculiar school, Cudby Yaw Primary.
A mixture of creepiness, incompetence, horror, and humour. LOTS of humour! For middle-grade readers (+/- 8-to-12-year-olds), but it will also delight adults!
Very good! Quite creepy but not too scary. – Adam, age 9
Deliciously diabolical! For your schooldays to be the best days of your life, you have to survive them. The teachers are, well, let's just say it's better to stay on their good side. On no account do you want to be sent to see The Head. Top marks to Thornhill and Johanna! – Mark Weaver, author of Liber Monstroroum (The Book Of Monsters)
Well, that was dramatic! – Jack, age 9
What a lovely set of creepy stories! [...] witty and definitely entertaining. [...] I genuinely enjoyed reading it. – Cheetah (elementary school teacher)
I'm not going to read it. I don't like creepy stories! – Georgia, age 10
What a wonderful book. A collection of stories to make your spine tingle, complete with spooky illustrations to make you gasp.–Kiera Lawley, author of The Leprechaun's Gift (WIP [a work in progress])
Creepily enjoyable, with unexpected twists. They're really good. – Daniel, age 11
It is well written and very entertaining. Ghastly and creepy without being total nightmare fuel. [My daughter] loved it! [...] Each story had a twist and surprise and she really enjoyed it. [...] She truly laughed out loud a few times, took in sharp breaths, and called "Mom, look at this!" more than once. – Jacquie Parizo (stay-at-home mother)
If you read stories before bed, I'd leave this one on the shelf! – Kaden, age 11
50¢ of the cover price on this book goes to ActionAid – https://actionaid.org/who-we-are)
*********
draGons! by Wilhelmina Lyre, illustrated by Georgia Lythgoe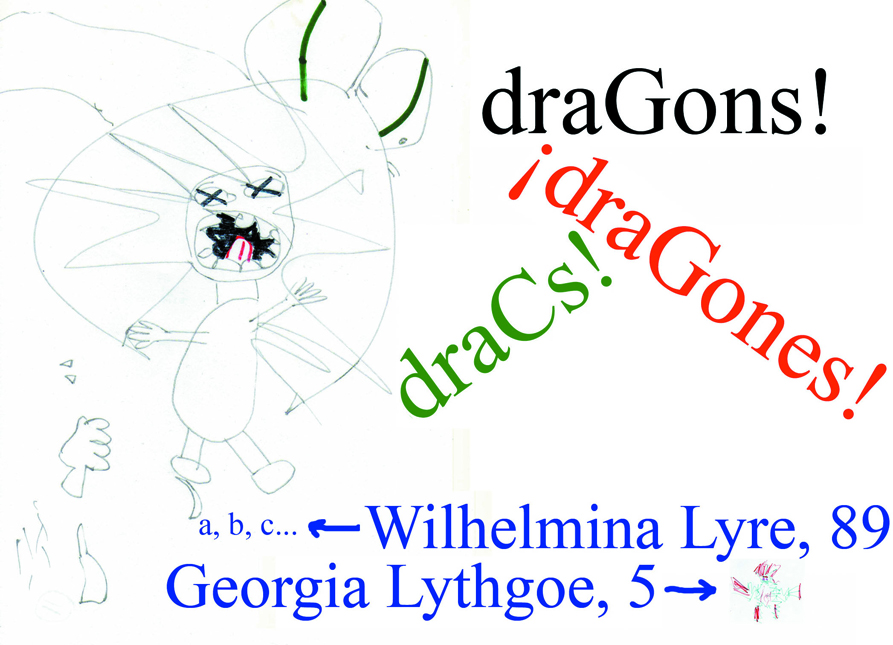 You and the narrator have been given special permission to visit the draGons XpqmtvbfrLpxptm and pRxtfmjktqgmhgLxp! (Don't worry: there's an easy pronunciation guide in the book.)
Are you scared? (I'm not!... Well... a bit very nervous.)
This is the first complete book written by Wilhelmina Lyre (when she was 89), and the first one illustrated by Georgia Lythgoe (when she was 5). Despite – or perhaps because of – the difference in their ages, Ms. Lyre and Ms. Lythgoe are (figuratively and literally) on the same page, and are now working together on a sequel, The tiGerdraGon From Hell. (This was Ms. Lythgoe's idea.) For younger readers... and the young-at-heart.
This is a quadrilingual book: You can read it in English, Catalan, and/or Spanish, and there are words in drAgon scattered throughout the text.
Harrumph! This is not a book of any scholastic merit whatsover – nor even to be taken at all seriously. I sorely regret giving permission to be quoted in its pages. – Professor Jackson J. ("Wiggly Ears") Jackson, MDS, PhD, FRS, CBE, chair of Dragon Studies at Oxford University, and author of A Definitive Treatise On Some Rather Curious Aspects Of Dragon Behaviour
I love draGons! and am looking forward to the sequel. – Jimmy Hollis i Dickson, author of Not Now, Daddy!
50¢ of the cover price on this book to be shared between Fridays For Future (https://fridaysforfuture.org) and TeamTrees (https://teamtrees.org)
*********
THE saga by a collective writing team – there were 10 writers contributing their literary skills to this project, including the zombies of Jane Austen, JRR Tolkien, and William Shakespeare!

For older readers (teenagers and adults). WARNING: contains an amorous snake and swearing marsupials.
Q: What do you get when you mix a long-term friendship gone sour with a fellowship of varied species (we are not allowed to mention hobbits here) on a quest, some zombies who decide to join the writing team, hard-drinking Australian marsupials, dwarves – both cute and menacing – a ring that turns its wearer invisible, CIA agents in disguise, greedy, rather nasty literary agents, a tree frog, and...? No, I'm going to stop here: the list is just too long.
A: A saga to beat all sagas. In fact, THE saga!
A prequel, The Habit, is currently being written. It has 13 writers on its writing team... so far. And 7 of them are zombies!
Interesting and original idea, and the format feels like "Whose Line Is It Anyway?" with the lack of continuity, and the back-pedalling explanations: just adds to the fun. There are some real laugh-out-loud lines, for example: "Two Towels" section title; the dry ice because smoking is not allowed in pubs; "In the land of vomit, the wellied woman is Queen"; the dwarf only being called Doc because he wears glasses; the commercial break, with cocoa; the Austen quote parodies.
On the less favourable side, some of the Australian references were hard to follow and in that respect the first part was a bit clunky to read, but hung together better as the saga went on. (The Aussie thing is a very personal comment and I know won't apply to everyone.) My favourite thing of all is Jon's long, curly leg hair! Of course, I also had this vision of each of the writers creasing up with laughter as the next contribution was added. – Louise Burke
The whole 2€ of the cover price of this book to be shared between Sea Eye (https://sea-eye.org) and Sea Watch (https://sea-watch.org)
*********
Not Now, Daddy!, written and illustrated by Jimmy Hollis i Dickson, with contributing features by guest artists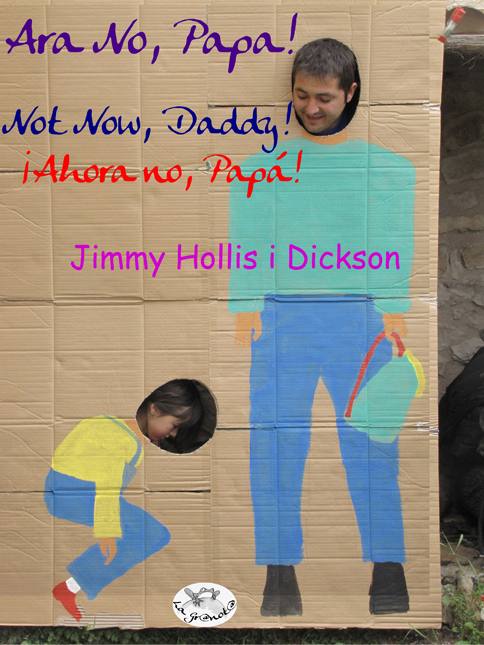 Stay-at-home Daddy wants to spend some time with Olivia, his young daughter. But Olivia is just too BUSY! A wonderful, funny book for younger readers AND their parents. As far as we know, the illustration technique is unique in children's literature. (Please let us know if you're aware of an earlier example [pre-2012].)
A trilingual (Catalan, English, Spanish) book for 3s-to-6s to read WITH their parents; and for older readers who are learning a new language.
This deightful story will be cause for smiles to more than one child... and cause for thought to more than one parent. – Jimmy Hop, The Sant Joan Review
Oh, what a fabulous book! – Mia More, The Mancunian Candidate
Lovely, lovely, lovely! – Sarah Mulligan, Errigal Evening Echo
50¢ of the cover price on this book to be shared between Fridays For Future (https://fridaysforfuture.org), Sunrise Movement (https://www.sunrisemovement.org), and Extinction Rebellion (https://rebellion.global)
*********
The "Wanna Score?" anthology by over a score of writers/artists.
Over 620 entries of exactly 20 words each, some very funny, some seriously serious, a few rather boring (but only a few!), following 30 weekly prompts on Twitter® and WordPress®.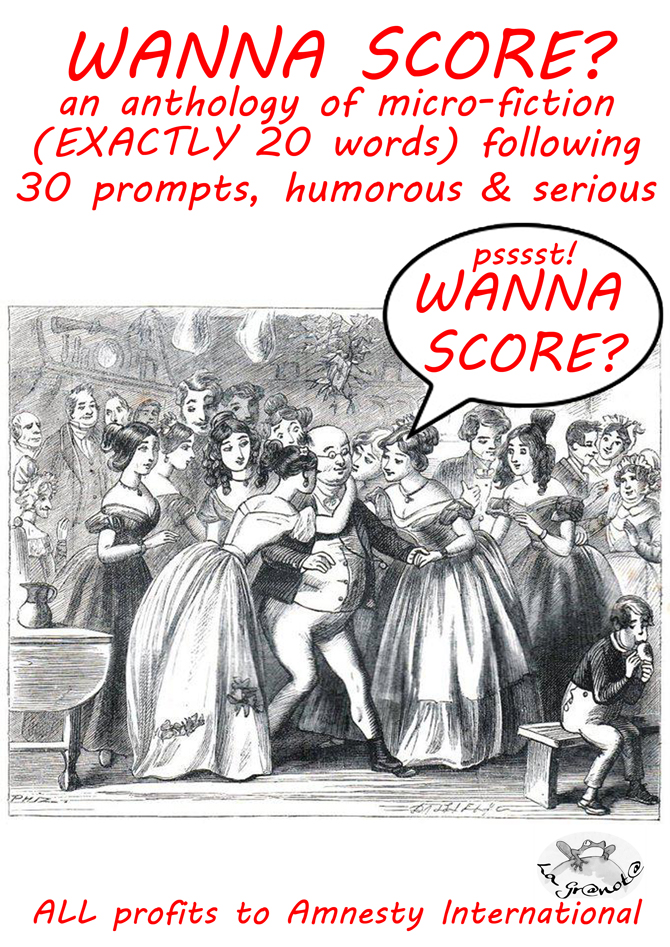 The whole 2€ of the cover price of this book will go to Amnesty International: https://www.amnesty.org
*********
Each of these books can be ordered at https://la-granota.com/pay.htm – at the stunningly low price of 2€!
Several other books are in the pipeline, and we hope to be able to add them to this page by the end of 2023.