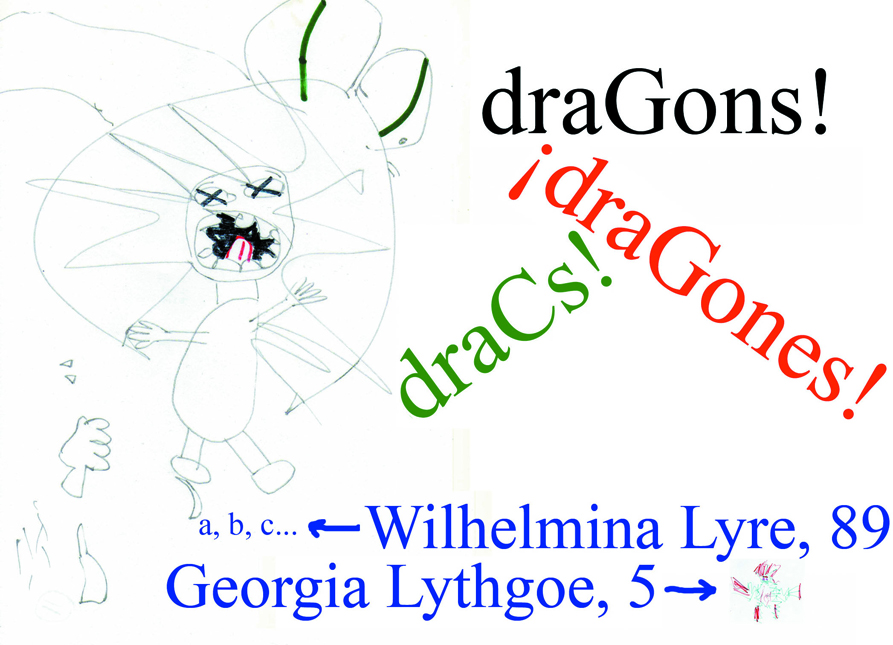 Here is a small glimpse of the fascinating adventure story, "draGons!", by Wilhelmina Lyre and Georgia Lythgoe.
It was first published 3 years ago (2018) in a printed, quadrilingual edition (English, Catalan, Spanish, and drAgon), although the story (in English and drAgon) and illustrations had been finished 2 years previously. Ms. Lyre and Ms. Lythgoe are currently working on a sequel, "The tiGerdraGon From Hell".
Ms. Lythgoe (currently 10 years old) is La Gr@not@'s specialist consultant on all matters to do with dragons (and draGons).
draGons!
by Wilhelmina Lyre
(for Georgia and Greg)
illustrations by Georgia Lythgoe
(with a tiny bit of help from Mum)
.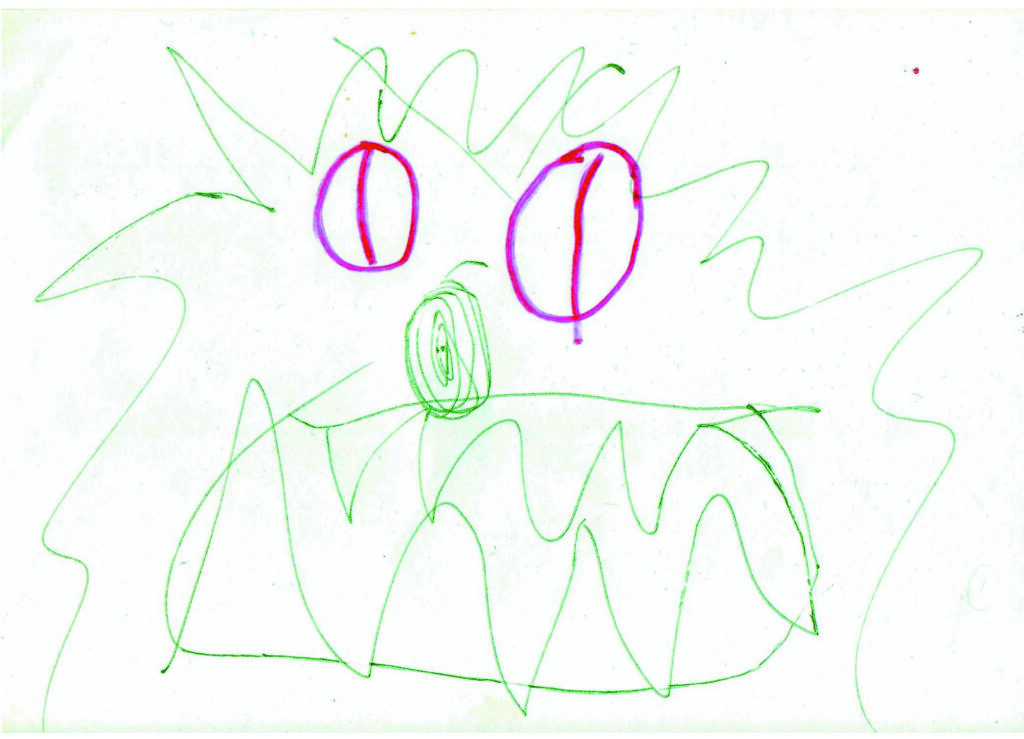 There is this draGon, whose name is XpqmtvbfrLpxptm. Now, I suspect that a few of my readers might not speak drAgon, and won't know quite how to pronounce that name. So I'm going to give you an idea.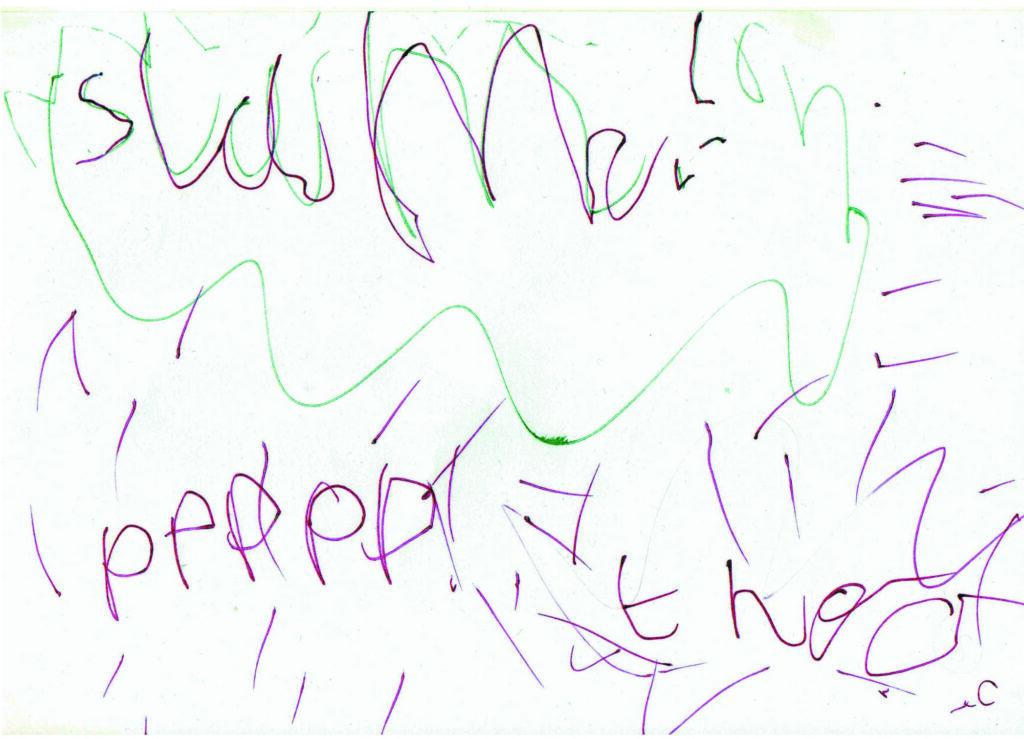 It sounds something like a door being slammed, something like a squishy-ripe fig falling onto a hedgehog's back, something like a doe-deer's sneeze, with a tiny, weenie suggestion of purple wind in a chimney.
Have you got that? Good!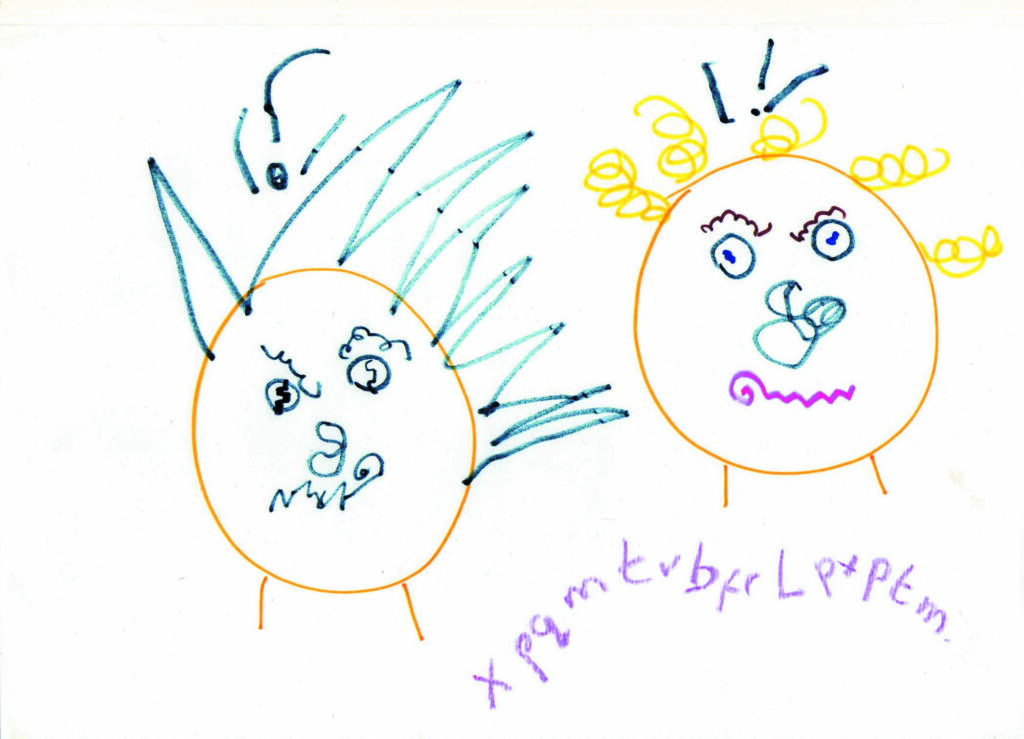 But I'm very much afraid that – if a grown-up is reading this book with you – they will have no idea of how to combine those sounds correctly.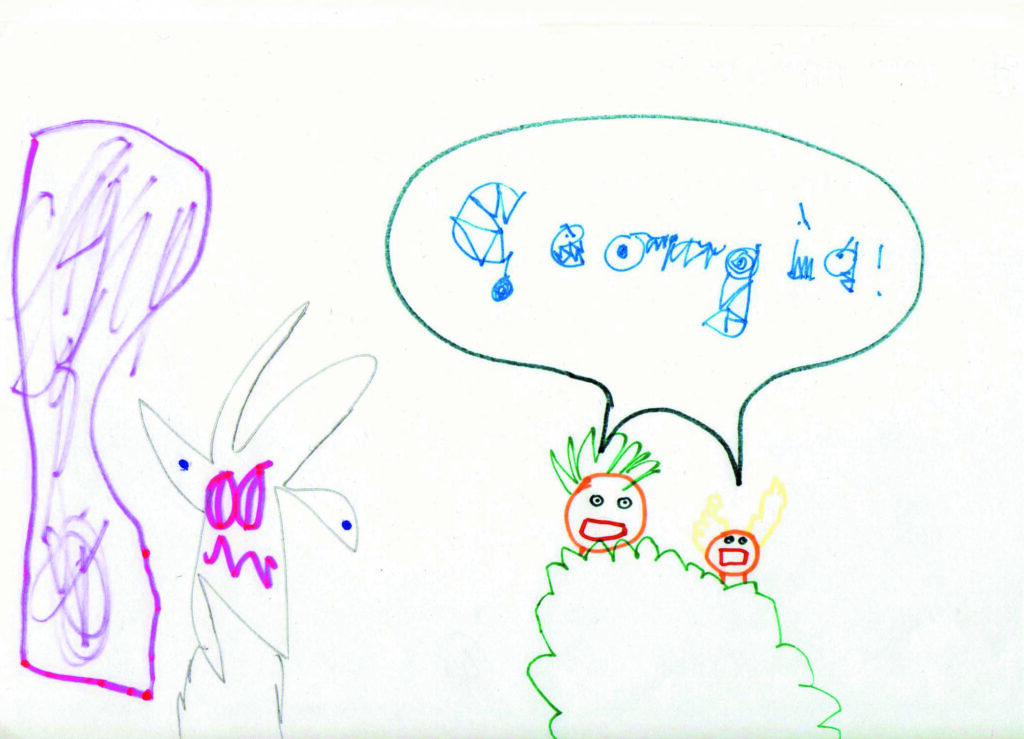 So, to make it easy on the grow-ups (and we should always make things as easy as possible for these poor creatures, hem hem hem), we're going to allow them to call the draGon 'Georgia'. Even grown-ups should be able to handle that.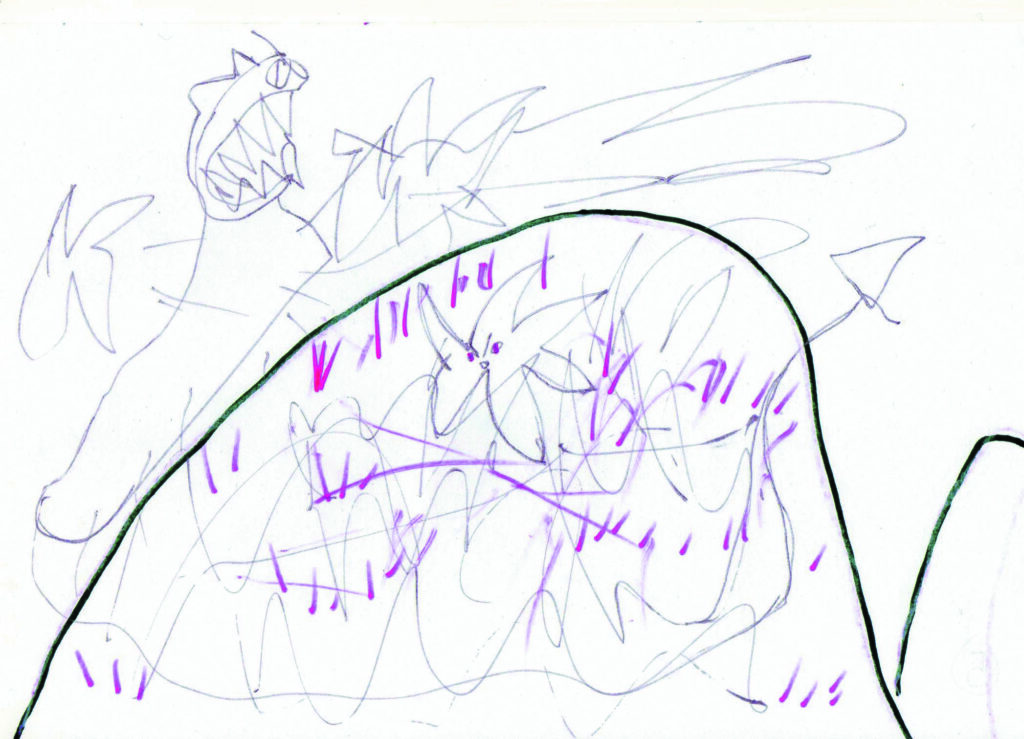 Anyway, XpqmtvbfrLpxptm – or Georgia – lives in a land where there are lots of hills. Which is a good thing, really, because when she/he/it (one never can be quite sure with draGons) doesn't want to be disturbed, he/it/she simply lies down and blends in with all those hills. [See if you can tell which of these hills is/are (one never can be quite sure with draGons) Georgia.]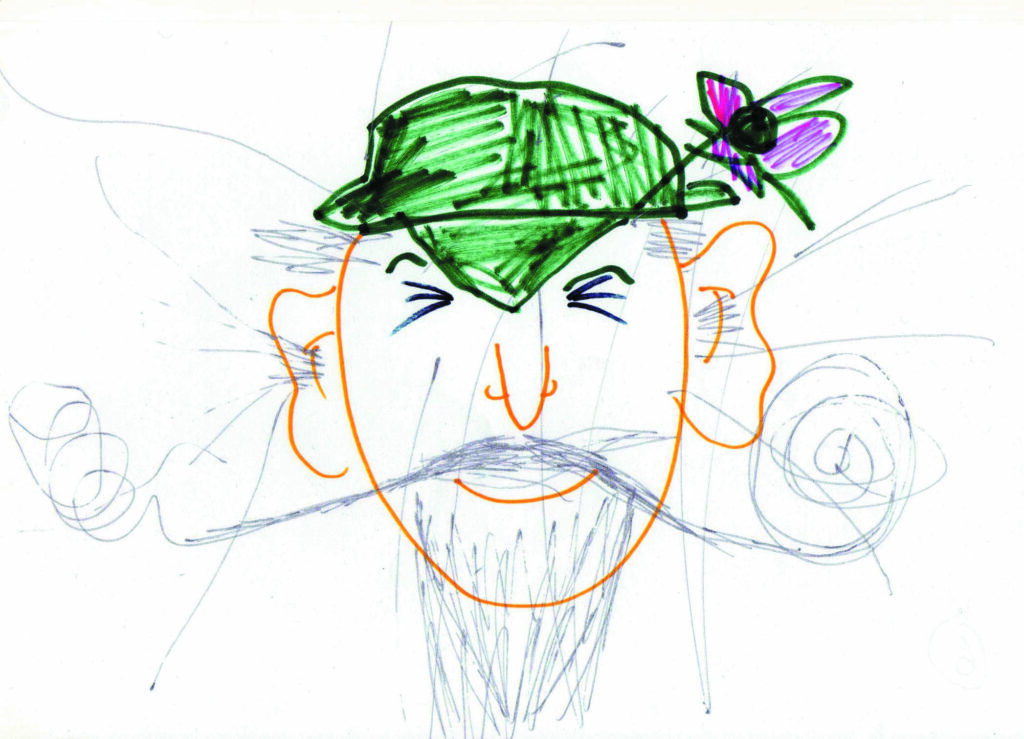 There is a lot of discussion about whether draGons breathe fire and/or fly.
Professor Jackson J. ('Wiggly Ears') Jackson, MDS, PhD, FRS, CBE of Oxford University spent 24 years studying these questions.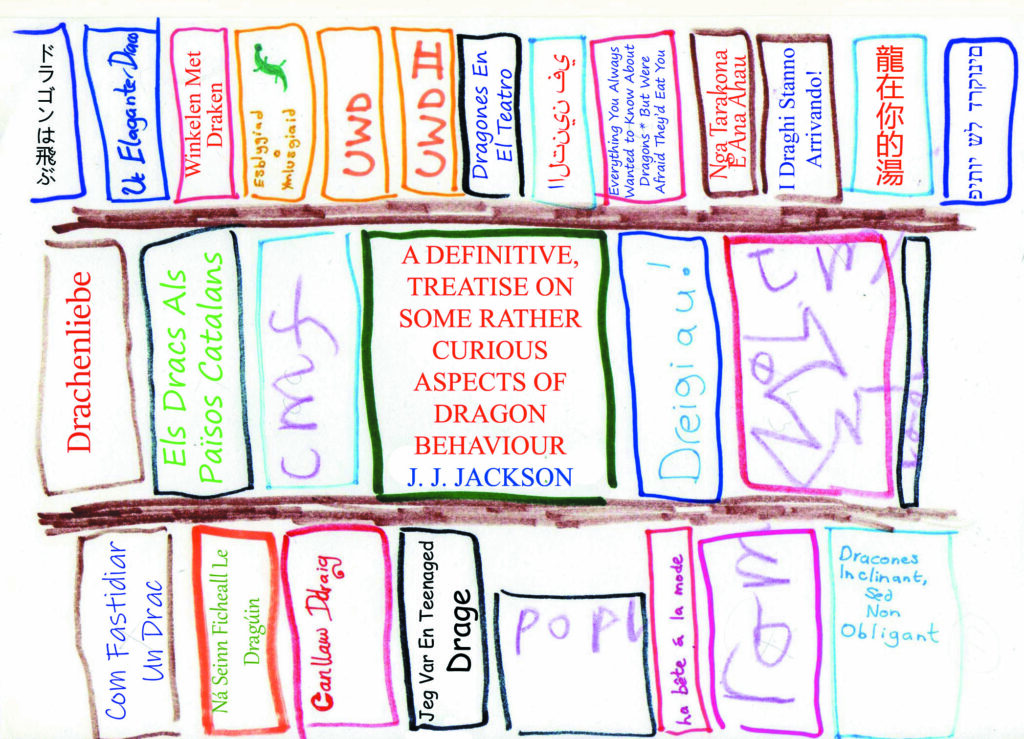 At the end of that time, he published his findings:
'Maybe they do. And maybe they don't.'
Anyway, back to 'our' draGon (known to grown-ups as Georgia):
It/she/he knows perfectly well whether he/it/she can fly… but it/he/she isn't saying.
***
The complete story of "draGons!/draCs!/¡draGones!" will be one of the first of La Gr@not@'s digital books (once again in a quadrilingual edition), ready and waiting for our relaunch in the spring of 2022!