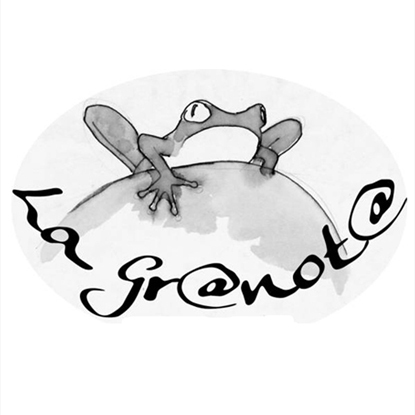 English? See 6 lines further down.
Català? Mira més abaix.
¿Castellano? Mira más abajo.
Deutsch? Sehe weiter unten.
Français? Voie au dessous.
Italiano? Guarda
La Gr@not@ is NOT hibernating. It's working very hard to transform itself into a publisher of digital books. But that means that it isn't offering any books for sale at this time. It hopes to relaunch as soon as possible with many of its previously printed books in digital format, in addition to an interesting offer of brand new books.
It is, however, accepting submissions! Please follow the following links for more information on the type of submission which you'd like to make:
http://la-granota.com/saga.html – if you'd like to take part in writing and/or illustrating a collaborative novel (not for young children);
http://la-granota.com/stranger.htm – if you'd like to submit flash fiction and/or graphic art on the subject of refugees (links to original music and videos also welcome), submissions from people of ALL ages (our youngest contributor – so far – was 5 years old at the time: the eldest was 89);
http://la-granota.com/crazy.htm – if you wish to submit an unsolicited manuscript or illustrations for consideration.
Normal service will be resumed as soon as The Frog can offer a wider selection of titles. Please have patience… and please don't give up on La Gr@not@!
***
La Gr@not@ NO està hibernant. S'està treballant molt i molt per transformar-se en una editorial de llibres digitals. Però això significa que en aquests moments no ofereix cap llibre a la venda. Espera rellançar-se el més aviat possible amb molts dels seus llibres impresos prèviament en format digital, a més d'una interessant oferta de llibres nous.
Tanmateix, encara accepta mecanoscrits!
Si vols contribuir a l'antologia de micro-contes + obres gràfiques sobre el tema de la gent refugiada, ves a http://la-granota.com/estranger.htm (enllaços a vídeos també benvinguts).
Si vols enviar un mecanoscrit original, o bé una mostra d'il·lustracions, fes-ho a sub (arroba) la-granota (punt) com.
El servei normal es reprendrà tan aviat com La Gr@not@ pugui oferir una selecció més àmplia de títols. Té paciència... I si et plau, no oblidis La Gr@not@!
***
La Gr@not@ NO está hibernando. Está trabajando mucho para transformarse en una editorial de libros digitales. Pero eso significa que no está ofreciendo ningún libro a la venta en este momento. Espera relanzarse lo antes posible con muchos de sus libros previamente impresos, ahora en formato digital, además de una interesante oferta de libros nuevos. Sin embargo, ¡está aceptando mecanoscritos! Si quiere contribuir a la antología de micro-cuentos + obras gráficas sobre el tema de la gente refugiada, visita http://la-granota.com/estranger.htm (en catalán) o bien http://la-granota.com/stranger.htm (en inglés) (enlaces a vídeos también bienvenidos).
Si quieres enviar un mecanoscrito original, o bien una muestra de ilustraciones, lo puedes hacer a sub (arroba) la-granota (punto) com.
El servicio normal se reanudará tan pronto como La Rana pueda ofrecer una selección más amplia de títulos. Por favor, ten paciencia... y por favor, ¡no olvides a La Gr@not@!
***
La Gr@not@ ist NICHT im Winterschlaf. Es arbeitet sehr hart daran, sich in einen Verlag für digitale Bücher zu verwandeln. Aber das bedeutet, dass es derzeit keine Bücher zum Verkauf anbietet. Es hofft, so schnell wie möglich mit vielen seiner zuvor gedruckten Bücher in digitaler Form neu zu starten, zusätzlich zu einem interessanten Angebot an brandneuen Büchern.
Der normale Service wird wieder aufgenommen, sobald Der Frosch eine größere Auswahl an Titeln anbieten kann. Bitte hab Geduld... und bitte gib La Gr@not@ nicht auf!
***
La Gr@not@ n'hiberne PAS. Elle travaille très dur pour se transformer en éditeur de livres digitals. Mais cela signifie qu'elle n'offre pas de livres à la vente pour le moment. Elle espère relancer dès que possible avec plusieurs de ses livres précédemment imprimés en format digital, en plus d'une offre intéressante de livres neufs.
Le service normal sera repris dès que La Grenouille pourra offrir une plus grande sélection de titres. S'il vous plaît, ayez de la patience... et s'il vous plaît, n'abandonnez pas La Gr@not@!
***
La Gr@not@ NON è in letargo. Sta lavorando molto duramente per trasformarsi in un editore di libri digitali. Ma ciò significa che al momento non offre libri in vendita. Spera di rilanciarsi il prima possibile con molti dei suoi libri precedentemente stampati in formato digitale, oltre a un'interessante offerta di libri nuovi di zecca.
Il normale servizio verrà ripreso non appena La Rana sarà in grado di offrire una più ampia selezione di titoli. Per favore, abbiate pazienza... e per favore non rinunciare a La Gr@not@!
.